G SCALE HOBBIES has good deals for the enthusiastic model train lover. Check out this page from time to time to see what we have on special.  If there is something of interest to you please Contact Us.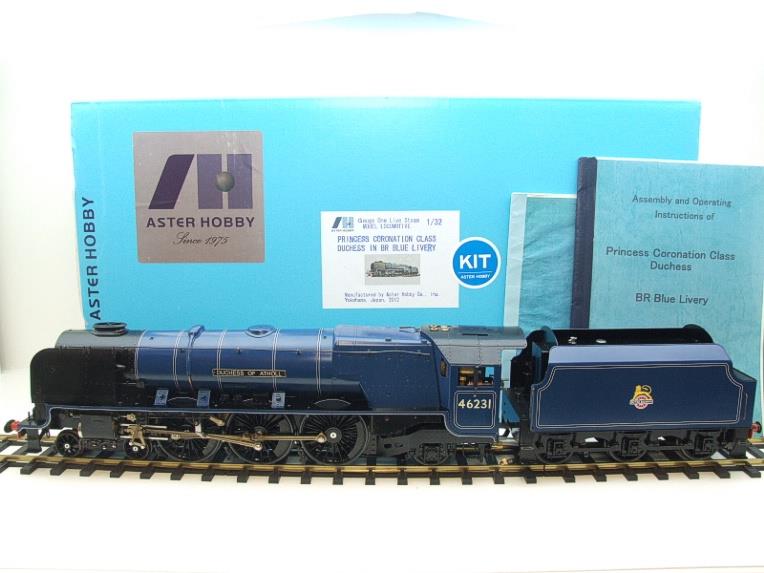 Gauge 1, Aster, BR, Blue, Duchess Class, 4-6-2 Loco & Tender Named "Duchess of Atholl" R/N 46231.
Solid brass & metal construction. Serial number 03-100. It is in superb condition. Test steamed only. Professionally built. Superb rare collectors live steam edition which would certainly enhance any collector's layout. Looks absolute stunning.
Full of realistic & authentic detailing including its cab works detail with pressure gauge. Scale Gauge: 1/32, Gauge 1 (45mm), Total Weight: 6.2 kg (13.7 lbs) (Engine 4.64 kg + Tender 1.56 kg)
Assembled in the UK by the well-respected Aster builder and repair agent David Stick the model has never been fired up since an initial test firing. It has been on display in a specially built dust free covered display stand.
Dimensions: Length O.B. 711 mm (28 inches) Width: 91 mm, Height: 129 mm. Wheel Arrangement: 4-6-2 Pacific, Driving Wheels: Dia. 64.0 mm, Pilot Truck Wheels: Dia: 26.0 mm, Trailer Truck Wheel Dia. 38.0 mm
Minimum Radius: 2 Meter, Engine Cylinders: 4 Cylinders with slide valve. Bore: 11 mm x Stroke 22 mm,Valve Gear: Walcherts Valve gear,Valve Travel: 6mm, Cut Off 75%
Boiler Type: "C" Type with two flue tubes, Water: 250CC At 70% Full, Pressure: 3-4 Kg/Sq.cm At normal working.
Fittings: 2x safety valves, Gauge Glass, Pressure Gauge, Blower valve, Regulator Valve, Check valve, Filler plug and super heater. Axle Driven: Bore 5mmx Stroke 5mm
Lubricator: Roscoe Displacement Type. Tender water tank capacity: 250 cc, Hand Pump mounted. Alcohol tank Capacity: 200 cc, Fuel: Methylated Alcohol.
Also supplied is its assembly & operating manual, display stand & water pump handle.
Price on Application
Accucraft Canadian Royal Hudson 4-6-4
Factory assembled and tested on delivery only and presents in mint condition!
Specifications:
Scale / Gauge: 1:32 / 45 mm
Construction: Brass & Stainless Steel
Mini. Radius: 2.5 metres
Length: 935 mm
Width: 110 mm
Height: 155 mm
Price on Application
Features:
Butane fired
60 PSI working pressure
Two Cylinders w/D-valve
Walschaerts valve gear
Water level glass
Check valve
Axle water pump
Hand water pump in tender
Pre-Loved Train Collection. Items are in mint condition (never taken out of the box) unless otherwise noted. Pricing may be negotiated for multiple purchases. 
Three Roundhouse Engineering Live Steam models.
A Roundhouse 'David Lloyd George/Dafydd Lloyd George' 0-4-4-0T Double Fairlie locomotive (shown below)
A Roundhouse Fowler Light Line locomotive (shown below)
Roundhouse 'David Lloyd George/Dafydd Lloyd George' 0-4-4-0T Double Fairlie locomotive
Roundhouse Fowler Light Line